When Bumpkins Go Mad Again!!!
Eight bloodsports supporters appeared at Bow Street magistrates on 21/12/04 in connection with a hunting protest inside the House of Commons. They all pleaded not guilty to disorderly conduct charges under Section 5 of the Public Order Act. The men were given unconditional bail to return in January. They were Otis Ferry (22) of Keeper's Cottage, Eaton Mascott, Shrewsbury. Ferry is also the joint master and huntsman of the South Shropshire Foxhounds. Luke Tomlinson (27) of Down Farm, Westonbirt, Gloucestershire, who is a friend of princes William and Harry. David Redvers (34) of Corsend Farm, Hartpury, Gloucestershire; Richard Wakeham (36) of Alma Terrace, York; Nicholas Wood (41) of Bowden Park, Lacock, Wiltshire; John Holiday (37) of Ledbury Kennels, Bromesberrow, Herefordshire. Holiday is also the huntsman of The Ledbury Foxhounds; Robert Thame (35) of Piper's Cottage, Paley Street, Maidenhead, Berkshire, Thame also hunts with the Bicester and Whaddon Chase Hunt; and Andrew Elliot (42) of Laurel Cottage, Allbright Lane, Bromesberrow, Herefordshire, Elliot rides with the Ledbury Foxhounds.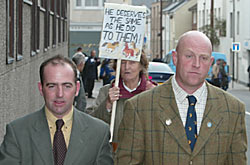 Two bloodsport supporters who dumped animal carcasses (see below) in the street during the Labour Party conference pleaded guilty at Brighton magistrates on 20/10/04 to breaching the Public Order Act. Stuart Trousdale (33) from Gatcombe is the huntsman of the Isle of Wight Foxhounds and James Butcher (39) of Ashley Road in Ryde, horrified local residents by unloading two dead calves and a cow from a pick up truck near the conference venue in Brighton. They pleaded guilty to breaching the Public Order Act through threatening and disorderly behaviour. Their defence claimed they are not hooray Henrys, out to make a point. They are hard-working members of their community. "They are countrymen who feel that, as they see it, their way of life is under threat. "This is a crime of passion." Both regretted any upset they had caused. Trousdale, who earns £10,000 a year, was fined £80 and ordered to pay costs of £70. Butcher was fined £167 and ordered to pay £70 costs.
| | |
| --- | --- |
| | |
At Tower Bridge magistrates on 29/9/04 a bloodsports supporter who took part in the demonstration outside Parliament on 15 /9/04 swore and spat at police who tried to move him out of the road. Brett Parsons (31) from Stickle Ball Hill Farm, Sticklynch, Glastonbury, Somerset admitted threatening behaviour and obstructing the highway and was ordered to carry out 75 hours unpaid community work and fined £75. Parsons, Parsons was also told to pay £50 towards prosecution costs.

Lucy Ferry admitted her part in the pro-bloodports demonstration in London on 15/9/04. She was given a 12-month conditional discharge at Bow Street magistrates on 21/9/04 after admitting obstructing the traffic. Ferry, who was also ordered to pay £40 court costs. Jackie Coward (18) girlfriend of Ferry's son Otis, pleaded guilty to the same charge and also received a conditional discharge and was order to pay court costs. Magistrates heard how at 6am on the day of the Countryside Alliance protest in Parliament Square, police were in the process of setting up cordons. As a police carrier came to a set of red lights, two vehicles appeared to park up at the lights. The defendants got out of the cars. They walked away so that when the lights turned green, the carrier was unable to proceed. She said when police spoke to the two women, they refused to move their cars. Coward said: "We were making a political statement and I was quite shocked at what happened. I'm surprised I have had to come back down here. I am a poor student from up in Newcastle". Coward admitted that her car had been blocking the highway.
---
The following pictures were taken during a so called 'peaceful' demonstration in Parliament Square on 15/09/04 by bloodsports supporters who were protesting against the Hunting Bill.