Question - Who Ate All The Pies?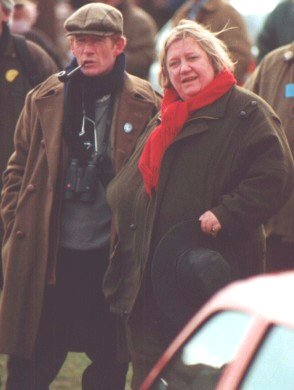 Answer - Clarissa Dickson Wright Ate All The Pies!!!
The picture above was taken at The Waterloo Cup 22/2/00
---
Celebrity chef admits speeding charge - 26/10/00
Celebrity chef Clarissa Dickson Wright has appeared in court to plead guilty to a speeding offence. Dickson Wright, 53, a former practising barrister who represented herself during the brief hearing at Forfar Sheriff Court, had previously pleaded guilty by letter to driving at 95mph in a 70mph zone.
The offence took place on March 2 this year, when the television personality and Aberdeen University rector was driving her Saab on the A90 dual carriageway near Forfar in Angus.
Dickson Wright, of Inveresk, Midlothian, told the court she had mislaid her licence and Sheriff Kevin Veal deferred sentence until November 23 for a printout from the DVLA in Swansea.
Sheriff Veal said providing she had a clear licence, which Dickson Wright said she did, her presence at the November hearing was excused.
Dickson Wright, who made her name as one of the Two Fat Ladies in the television cookery series, had previously pleaded not guilty to two further charges of driving without a licence and without insurance. In court her pleas were accepted by procurator fiscal, Jim Craigen, and the charges consequently dropped.
Dickson Wright, currently appearing in the BBC 2 series Clarissa and the Countryman, had at one stage faced a warrant for her arrest after she failed to respond to a summons concerning the charges, but this was withdrawn once it emerged she had not been at home to receive the letter.
Outside the court Dickson Wright said she had never been troubled very much by the charges, but she had been "distressed" when she first learnt about the warrant. She said while in Forfar she was going to take the opportunity to sample some of the town's famous bridies, a pastry containing beef, onions and potatoes.
She said: "I probably could have got out of attending today, but I thought it was respectful to come. And anyway, I am going to buy a bridie - stock up with some bridies for my freezer"
http://www.heraldscotland.com/sport/spl/aberdeen/i-was-too-heavy-on-gas-says-tv-chef-1.222246
---
Clarissa Dickson Wright, one half of the Two Fat Ladies cookery duo, has joined up with farmer Sir John Scott (also pictured above) to produce an illustrated celebration of the countryside. Travelling the length and breadth of the British Isles they trace the thread that runs between farming, bloodsports and conservation.
DEMO 1
Clarissa Dickson Wright spent last Wednesday evening barricaded in a Cirencester bookshop after being set upon by anti-hunting protesters while signing Clarissa and the Countryman. "They were young anarchist types," she says. "Definitely on something. The attitude of the police appalled me. If I started banging my knees on the window of a Bond Street jeweller's and shouted: 'You're a fat old cow', I'm sure I would be nicked." Daily Telegraph, 10/11/00
---
MORE CLARISSA DEMOS
On 13/11/00 a group of Shoreham Protesters travelled up to Horsham with their banners and posters to stage a demonstration outside Hammicks bookshop, where Clarissa Dickson-Wright was signing copies of her new book "Clarissa and the Countryman - A Celebration of the Countryside".
Clarissa is a well known supporter of bloodsports, even helping to promote hare coursing, the bloodsport most strongly condemned by the Burns Report. Hares are an endangered species but that doesn't stop Fat Lady Clarissa from placing her bets at the Waterloo Cup.
When they arrived the book display from the window had been removed and a member of staff was removing the book signing posters from the door. A Protester asked her if the book signing was going to happen and was informed that there had been a bomb scare earlier and that they would never invite Clarissa in their shop again.
Other Protesters who had gone into the shop to peruse the books couldn't find one copy and there was certainly a dearth of people arriving for the signing - we didn't see one! However, we remained outside the shop for a while and got wonderful support from the people of Horsham, all of whom (bar one couple) seem to be against hunting.
We then decided to move on to Haywards Heath where Clarissa was expected at 3.30pm. We took up our position outside Halycion Bookshop as 2 WPCs entered the shop and the proprietor locked the door. Once again support from passing pedestrians and motorists was good for us. A couple of police vans cruised the street.
The road cones outside the door of the shop awaited Clarissa's arrival. Known hunt participants and supporters arrived, including Sophie Hill and Sandeman. All but one or two ignored us completely and quickly entered the shop. Suddenly we noticed that the crowd inside the small shop had moved to the back room so we guessed that Ms Dickson Wright had been too fearful to confront a relatively small group of protesters and enter through the front door.
Just goes to show what cowards these hunting and killing brigade are. Do they ever give a thought as to how the fox, hare or deer feels with dogs on their heels?
---
CAMBRIDGE DEMONSTRATION
A demonstration was held at 'heffers' bookstore in Cambridge on 10/11/00, where Clarissa Dickson-Wright and Sir Johnny Scott were promoting their pro-bloodsports book 'Clarissa and the Countryman' which is a follow on from the BBC series of the same name (now being shown on Friday evenings, on BBC2).
In response to our call of complaint, the BBC state this series is a light hearted look at country life. About 15 demonstrators took part. This demonstration was as much about the BBC's continuing pro-hunt bias, as Clarissa and Johnny's book.
They arrived in time to give them a noisy welcome as they sneaked into the shop through the back door. Clarissa totally lost it, shouting and searing, waving her arms about, red faced and eyes bulging (gorgeous sight!).
The staff at Heffers (who were abusive to them) moved her book signing table from the front window to the back of the store out of sight (at least saving everyone a freak show as they passed the shop).
Much shouting and leafleting went on, even members of the public went in to tell her what they thought of her, she was abusive to them. The demo lasted about 1.5 hours until Clarrisa and Johnny crept away.
There were no arrests, we had lots of support and hardly anyone bought here book. There was a foul smell lingering in the shop, was it the stink bombs or Clarissa?
Check out local press. Plus, everyone should step up pressure on the BBC, phone calls and letters to them, and to your local press to expose the BBC for the Countryside Alliance arse lickers they are.
BBC Complaints:- Jane Root Controller of BBC 2 TV, BBC Television Centre, Wood Lane, London W12 7RJ Tel: 0870 100 222 PS when Clarissa was interviewed by local radio she stated: "Unfortunately, like the poor, the anti's are always with us".
---
I've just heard that last week the notorious blood-junkie, TV chef Clarissa Dickson, of 'Two Fat Ladies' fame and star of the BBC's latest pro-bloodsports program 'Clarissa & The Countryman' turned up for a book signing in Norwich at the start of December 2000.

However, apparently, during the book signing a group of masked persons unknown rushed into the shop and dumped a load of red paint over her before leaving the shop. One person was arrested as a result of this action. But no charges are being pressed.