Nigel Cox - Huntsman of The High Peak Hunt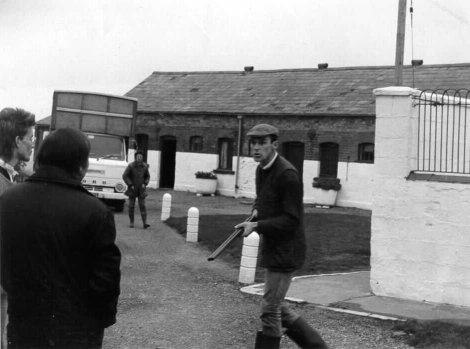 The above picture is of Nigel Cox who is the huntsman of The High Peak Hunt based in Bakewell, Derbyshire.

The incident took place in October 1985 when protestors tried to block the entrance to the kennels of the Albrighton Hunt (based in Shropshire) to stop foxhounds being transferred to nearby hunting grounds. Cox ran to his house, armed himself with a 12-bore shotgun and, swinging it in the direction of a female members of the group, hit a camera causing £84 worth of damage. He then fired a bullet into the front of their minibus. Local police had to rush to the scene to prevent further disorder.

He was convicted of firearms offences and given a 3 year suspended prison sentence after he blew a hole in the radiator of an occupied sab minibus with a shotgun. He was also given a conditional discharge for assault (he had struck a sab with the gun) and criminal damage to a camera. No damages were paid to sabs.
---
During at meet of the High Peak Hunt at Sheldon, Derbyshire on the 13/11/04 Nigel cox tried to run down sabs with his horse. The two videos show what happened - video 1 (500 KB) and video 2 (600 KB)