Master of Foxhounds Association Rules (Extracts)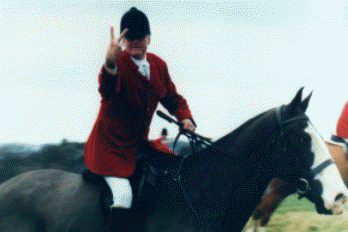 The image on the right is a nice greeting from Arnold Greenhalgh master of the Holcombe Hunt
B. CONDUCT OF HUNTING
General principles
5. Foxhunting as a sport is the Hunting of the fox in his wild and natural state with a pack of Hounds. No pack of Hounds, of which the Master or Representative is a member of the M.F.H.A., shall be allowed to hunt a fox in any way that is inconsistent with this precept.
6. The Hunting of a country is the sole responsibility of the Master or Masters. They are responsible for the actions of the Hunt Staff and the discipline of the Field. In the absence of the Master, whether in the field or otherwise, a person must be appointed to act for him. That person will then for the time being carry the full authority and responsibility of the Master.
7. It is the duty of the Master, Acting Master or Representative of the Hunt to make sure that the Hunt Staff, or amateurs acting as such, are fully conversant with this section B of the Rules and, in particular, Rule 5. "Built-up" areas and associated matters
8. Every effort must be made to prevent Hounds Hunting a fox into a "built-up" area.
9. Should a fox enter an inhabited dwelling, or a building adjacent thereto, every effort must be made to stop Hounds. They must be taken away and the fox not hunted again. At the same time, the owner or occupier, or his representative, shall, if possible, be consulted as to how he or she would like the fox dealt with.
10. Hounds by law are not allowed on a motorway. Therefore, they must be stopped when there is any possibility of their getting onto a motorway. No person is allowed to trespass on railways.
Neighbouring Hunts
11. Hounds may hunt their fox over the boundary of their country until they account for or lose him. They may not be held on into fresh foxes. Should a fox be run to ground in a neighbouring country, no attempt should be made to get him out except under mutual arrangements previously made with neighbouring Masters.
Terrier work and associated matters
12 (1) When a fox is run to ground, digging is allowed only at the request of the Landowner, Farmer, or Shooting Tenant. This may be verbal and may be received before the hunting season. The decision on whether to dig remains with the Master. If the decision is that the fox be killed, it must be humanely destroyed.
(2) When a hunted fox is run to ground in a natural earth, there shall be no digging other than for the purpose of humanely destroying the fox.
(3) A fox that has been handled must be humanely destroyed immediately or left, but under no circumstances hunted.
(4) Nets may be used for fox control only. Rule 12 (3) above applies to netted foxes.
(5) The practice of bolting a fresh fox is permitted.
(6) The practice of bolting a hunted fox is permitted if, and only if, it has taken refuge in:
(a) any man-made structure, such as drains, stick-heaps, straw bales, banks and the like; or
(b) rocks or places where digging is impossible.
13 (1) The Master in charge, or someone of authority personally appointed by him, must supervise any digging or bolting operation.

(2) In any bolting operation a) Hounds must first be taken out of sight and out of hearing; b) The fox when bolted must be given fair
chance of escape before hounds are laid on.

(3) One or two persons only should accompany the Terrier Man on any digging or bolting operation. If, on occasions, more are
needed they should be kept to the minimum.

(4) Whenever possible, only one Terrier should be used at a time when digging or bolting.

(5) Terrier work which will involve delays to traffic on roads should not be undertaken.
14. Badgers are protected by law. Every Master must be conversant with that legislation.
15. Terriermen. (1) Those who are employed as Terriermen, or who act as such, whether professional or amateur, must be regarded as Hunt Staff and the Master in charge will be responsible for their actions.
(2) Every Terrierman acting for a Hunt must:
(a) be on the Register of Terriermen kept by the M.F.H.A.; and
(b) have a current Licence from the M.F.H.A.
(3) Every Terrierman on the Register must be issued with the card produced by the M.F.H.A. for Terriermen. The Master must confirm that this has been done when naming the Terrierman for the Register.
(4) A Terrierman who disregards the Rules and Instructions on that card will be liable to be struck off the Register.
(5) Any Terrierman who handles a firearm must have the appropriate Certificate.
(6) The Committee may from time to time require Terriermen who wish their Licences to be renewed to attend Seminars on the proper conduct of Terrier work.
16. Every Earthstopper must be issued with the "Card for Earthstoppers" produced by the M.F.H.A.
17. Masters must keep a register of those people authorised to stop earths.
Other matters
18. All carcasses of dead foxes, whether caught by hounds or dug out, should be picked up and disposed of. Dead foxes which have been dug out must not be brought on to be broken up by hounds.
19. "Holding-up"
(1) If the Master, or person acting as such, deems it necessary due to the proximity of roads, railways or built-up areas, or for farming or fox-control reasons, he may appoint specific mounted and/or foot followers to discourage a fox from leaving covert ("holding-up").
(2) "Holding-up" may only be carried out by recognised means, namely by the use of the voice and tapping with a stick or whip.
(3) No persons other than those appointed by the Master should be allowed to help in "holding-up".
20. All Masters and Representatives of Hunts must ensure that they are familiar with, and comply with, and legislation which affects the running or operations of their Hunt.