How low can these people stoop?
By Rachel Eaton

Countryside campaigners have been blasted after a fox's corpse was wired to a tree in a sick stunt.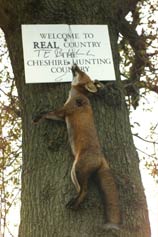 The fox - left hanging below a pro-hunting sign - is believed to have been put there by the Real Countryside Alliance just days after the opening meet of the Cheshire Hunt.
The incident came to light this week when a motorist spotted the fox suspended from a tree on Hickhurst Lane, about half a mile outside Eaton.
'These people are going beyond the grounds of decency in their campaign to save hunting,' said Chris Owen of the Animal Cruelty Investigation Alliance.
'This latest act of displaying a dead fox alongside their own sign is appalling and would no doubt have shocked and angered a great many users of that road.
'Hunt leaders will often distance themselves from such activities by claiming anti-hunt people have done it, which is a complete and utter nonsense. Just how low will these people stoop?,' Mr Owen asked.
'You will notice that the word REAL is in capitals. This is signif icant as it clearly refers to the Real Countryside Alliance, whose members - many of whom are countryside alliance members - have also been causing thousands of pounds worth of damage to road signs by spraying and stickering,' he claimed.
Ellie Boddington, spokesperson for the Cheshire Hunt, said: 'There is no way any hunt supporter or member would have anything to do with such a disgusting incident. It is quite abhorrent and a very strange and disturbing thing to do.'
She denied that it could have any connection with the Real Countryside Alliance: 'I don't believe it's them - there is no benefit in it.'
Spokesperson for The North West Hunt Saboteurs Association (NWHSA) Paul Timpson said: 'To me, it seems more than just a coincidence that the Cheshire Hunt held its traditional opening meet at Oxheys and within a couple of days, just up the road, this poor fox appears nailed to a tree.'
'This is the sort of thing that terriermen or gamekeepers will do. It just goes to show what little respect hunt supporters have for wildlife.'
The grisly scene was clearly visible to walkers and passing motorists, but the exact circumstances surrounding the death of the fox, and how it came to be attached to the tree, are a mystery.
It was reported to The Chronicle by a passing motorist who said, at the time, there were two foxes hung from trees.
Vale Royal Borough council was notified about the carcass late on Monday and attended the scene early on Tuesday, but found the fox had already been removed.
THE hanging of foxes is not a new sight in the Tarporley area.
A dead fox was tied to a farmer's gate four years ago to intimidate him into letting the hunt on to his land.
Foxes have also been dumped on the doorsteps of anti-hunt supporters as a warning.
Chris Owen, of the Animal Cruelty Investigation Alliance, says hunters are desperate: 'They are breaking the law and going beyond the grounds of decency in their campaign.