International Week of Action against Hunting
17-24 November 2007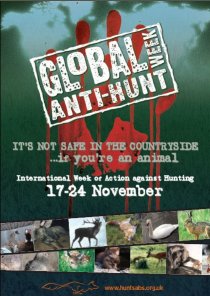 Hunter are persecuting and killing animals worldwide and thankfully saboteurs are also operating alongside them worldwide. Shooting is prevalent across Europe where wild boar, foxes pheasant and other birds are shot, stag and elk, ducks, mink, fish and many other animals are killed in the name of sport.
Sabs are active across the world:
In Austria they use umbrellas to obscure the hunters whilst they are trying to conduct a days shooting.
In France, local police tell the hunt to go home everytime the sabs show up.
In the US where guns are the norm, sabs have allegedly said they will also carry guns too.
At the White Marlin Open - the largest fishing competition in the world, boats were sabotaged by divers.
In New Zealand, sabs wade into rivers and sabotage boats to prevent duck shooters.
In Italy thousands of pheasants have been released, cages and equipment damaged.
Hunt sabbing is well organised and established in the UK but many other countries are just starting to take action against hunters. To support them and encourage the wider animal rights community to get involved, the Hunt Saboteurs Association have launched an International Week of Action against Hunting - 17th -24th November 2007. Groups across the world have already pledged their support together with a desire to globalise the anti-hunt movement with the same success as other animal rights campaigns. Those not wishing to sab will be encouraged to fundraise, plan events and street stalls, engage with the press and public to bring more attention to the range of bloodsports carried out all over the world.
The NWHSA will be holding events each day during this global week of action, details to be announced soon.
What you can do
Please contact the NWHSA (details at the top of the page) if you would like to help us during this week of action or
You can help raise funds for the NWHSA, running a vehicle is costly - fuel, maps, phones, walkie talkies and videos cameras are essential. Video cameras can be a powerful weapon against illegal hunting, these are often targetted by the hunt and many are damaged or taken. More importantly, protecting wildlife actively in the field is something sabs need help with every week in the season. If you don't fancy sabbing, then letters to local and national papers work well to keep the issue of hunting in the spotlight, and street stalls can also help raise needed funds and help recruit new supporters.
Please download the leaflet (in pdf format 1.2MB) and display where appropriate!!!
You can make a real difference.
Please support the NWHSA